The last time I paid attention to this blog was September 2012. I don't mean to neglect it. Here's my attempt to revitalize my blog with a long post about what's happened since then.
A few days after that last blog post, I had a table at my first major craft show. The BUST Craftacular at Maker Faire.
This was how my table was set up. I had tons of goodies for sale and did fairly well. It helped me realize what attracted people and what didn't. A few weeks after the show I received a email from FAB.com. They had checked out my stuff at the fair and was hoping to collaborate together for a flash sale. Of course I said yes!
The best selling item was my I LIKE PICKLES tote bags. I had a great time designing the packaging for them.
In addition to selling items I had on hand, I had also created exclusive holiday cards to be sold. They are still available for super cheap at my etsy!
I distinctly remember this time of the year I was super stressed out. Following the FAB sale I had a art gallery show at work that I had to create 3 pieces of work for. I originally wanted to work with felt but opted for digital paintings since that was all I had time for. Here's a look at one of the paintings in postcard form.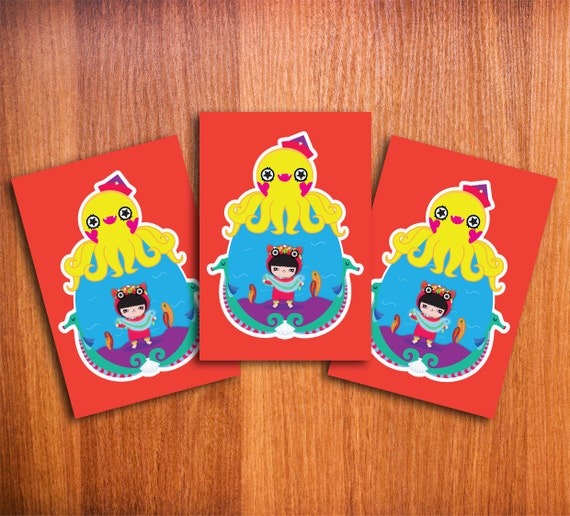 Jump into 2013 and I got busy creating graphics for Chinese New Year. This year is the year of the snake and it took me months of planning to make the perfect snake character. I actually even had time to create traditional red envelopes.
And finally these past few weeks I've been playing around with some mediums other than paper. Rubber stamps, acrylic and wood galore!
The rubber stamps are currently available in my etsy shop. The panda charms and earrings are being perfected and will be updated soon. Keep an eye out for them! As always, you can connect with me on
my facebook page: https://www.facebook.com/MerryHappyStudios
my etsy shop: https://www.etsy.com/shop/merryhappystudios
Thanks for stopping by! I love to hear your thoughts. ^_^